Full Name: Common Brown Water Snake (Lycodonomorphus rufulus)
Other Names: Bruinwaterslang
Classification: HARMLESS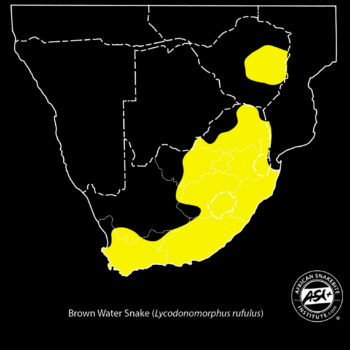 A smallish snake averaging 60 cm with a maximum length of 85 cm. This snake is not as aquatic as the Dusky-bellied Water Snake but does frequent rivers, streams, vleis and other damp areas. It is active at night and swims well but is often seen hunting along shaded streams during the day.
It is a powerful constrictor and feeds on frogs, tadpoles, fish and occasionally nestling rodents. Females produce 6 – 23 eggs in summer.
Though harmless this snake is much feared in Zulu culture and is called Ivuzamanzi elimdubu.